Affiliates & Alliances
AT KVG, our strong affiliations with other independent consultants provide the added advantage of combined strengths, skills, specialties, and services. This vast network of financial planners, tax experts, attorneys, and other licensed professionals provides critical support and allows us to offer a high level of service all over the country, including New York, Philadelphia, New Orleans, Denver, Florida and Los Angeles. Our strategic partners include:
Financial institutions, including banks and private capital companies
Attorneys, with varied and specialized backgrounds
Full-service accounting firms Tax experts
Middle market investment bankers
Mergers and acquisitions specialists
Turnaround and workout specialists
Commercial real estate executives
In addition, KVG has formed a close alliance with The National Association of Certified Valuation Analysts (NACVA), the preeminent global professional association that supports the business valuation and litigation consulting disciplines within the CPA and professional communities. KVG professionals also are:
Members of the American Institute of Certified Public Accountants
Members of the Illinois CPA Society and Foundation
POCKET EXPERTS SOLUTIONS
A New Day – A New Vision
Pocket Experts offers business owners and entrepreneurs a new and bold way to improve their business skills and knowledge at an amazingly affordable price. For the cost of one hour of professional fees, you will have a year's access to Pocket Experts. That means the ability to:
Increase your knowledge
Gather information
Strengthen your business foundation
Focus on a topic of interest
Learn how to ask the right questions
Receive insight from world class experts
Review a vast knowledge database
Register for live events via the web
Register and listen to webcast
Gain control of your destiny
Everyone realizes that knowledge is power. Challenged by a world with ever greater complexity and an ever changing business environment, those individuals who continue to ask the right questions, seek the knowledge they need and desire will make them stronger and therefore increases their ability for success. Join our family at Pocket Experts and together we will build a strong foundation of knowledge to help you build your business today and for the future.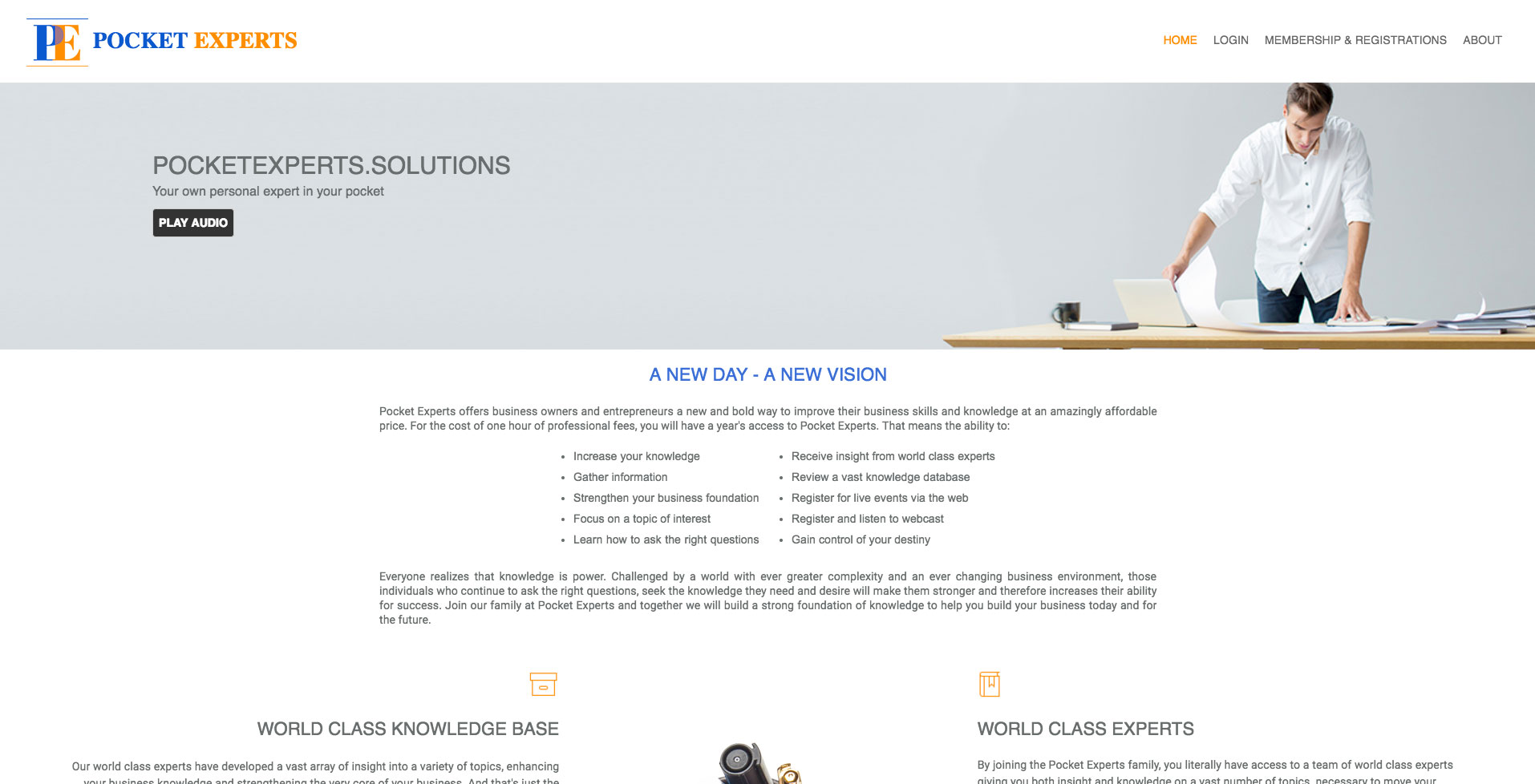 Click here to visit www.pocketexperts.solutions
How We Work
Knowledge is an investment in both time and money. Pocket Experts sets a definitive process intended to streamline the path to knowledge. At the very core of this process is understanding what questions to ask. Fishing expeditions and trial and error are inefficient and costly methods to seek answers. In worse case scenarios, these methods often fail to lead to a better understanding and the knowledge being sought. Pocket Experts brings business knowledge to business!
World Class Knowledge Base
Our world class experts have developed a vast array of insight into a variety of topics, enhancing your business knowledge and strengthening the very core of your business. And that's just the beginning as our members partner with our experts to personalize their needs on topics they request to continue to grow and expand their knowledge base for years to come. Access to information at this depth and has never before been?? available to entrepreneurs and business owners at such an affordable cost.
Solutions For Members
Pocket Experts is a fresh idea based on common sense and logic. We provide access to many of the country's best experts from a wide swath of professional disciplines to guide you and your business! We do this through a process of linking our members seeking knowledge with our professional contributors whose training and real life experience sets them apart in their fields of expertise. This link provides better understanding and substantive guidance on the issues you face. You will be better prepared and informed for meeting with your advisers saving you thousands of dollars in professional fees!
Opportunities For Contributers
Knowledge is not simply words on a page. Knowledge does begin with training and education. However, real knowledge comes with experience and application. It is the combination of these two aspects of learning that allows for true knowledge, which becomes intertwined with wisdom. Pocket Experts presents our cadre of world class contributors a forum to share what they have learned with those most in need of that knowledge. Sharing knowledge while building and enhancing professional reputations provides our contributors a unique and one of a kind opportunity.